How to commission a piece of horsehair jewellery
Posted on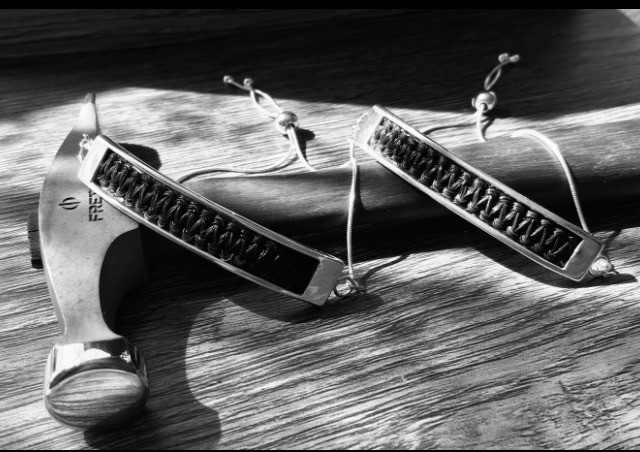 Horsehair jewellery is a very emotive thing. And it's a bit like Goldilocks' porridge. It has to be just right. Hopefully, these musings and ramblings on the subject will give you some pointers to getting the perfect piece of horsehair jewellery for you.
The word "commission" tends to have people sweating like a glassblowers armpit, mostly because they imagine endless extravagance over which they have no control, with a big-assed bill at the end of it. But it's really not as scary as you'd think. To commission a piece of jewellery (or anything else for that matter) literally just means to order or authorise its production.
I price my comission work in exactly the same way as I price my everyday makes that you can buy straight from my website - materials used + time. That's it. No astronomical price pulled out of my arse. No enormous markups. And no outlandish extra bullshit charges. You set your budget, and the cost is agreed before you finalise your order.
So now that you're no longer hyperventilating and holding your purse in a two handed death grip, let me walk you through a few considerations, and the basic process.
The first thing to decide, is what type of horsehair jewellery you'd like, and what will best suit your needs. Bracelet, pendant, or ring? It really comes down to what you most like wearing. If you're commissioning it as a gift, and you want it to be a surprise, opt for a horsehair pendant, or an adjustable horsehair friendship bracelet - that way you don't run the risk of getting the size wrong.
The next consideration is how much horsehair you have, what sort it is (mane hair, tail hair, or forelock), and how long it is. A good long length of tail hair is always the ideal, but I can work with most things. If the horsehair you have is short in length, and/or brittle (mane and forelock hair is brittle) it may be that your choice of design is a little limited, but we'll discuss all of that before we finalise a design.
If you'd like some free guides on how to get the very best swatch of hair for your horsehair jewellery, and how to care for different types of jewellery, you can sign up to our newsletter. We won't bombard you with unnecessary chatter, just occasional emails with whatever's on our minds - exclusive first looks, gift ideas, styling tips, events, ponies….you get the idea.
Then you need to think about your budget. Pleased don't be embarrassed about discussing your budget, there is no judgement here. You can have a look through my web shop to get a general idea of pricing. Obviously, diamonds and gold are going to cost more than silver and cubic zirconia, but there are ways of achieving an overall effect without breaking the bank. So basically, it's your job to tell me honestly what you can afford, and it's my job to come up with design options within that budget. You also have the option, if you wish, to use PayPal's Pay in Three, which spreads your payment over three instalments over three months. Just select the option when you check out.
Now we get to the good bit...
There are three basic types of commission:
The first is when you see something you love on my website, but would like it tweaked in some way.
There are sooooo many ways a design can be tweaked. And the tweaks are what make your horsehair jewellery personal to you.
Now it may just be the smallest of tweaks, like a different chain, or just a longer or shorter chain, or a different type of fastening. We can even supply a magnetic clasp to make life easier for arthritic fingers. Anything that makes it more wearable for you.
Or it may be a tweak that adds something that symbolises the relationship you had with your horse or pony. Did you have a set colour that you competed in? Or a favourite colour matchy matchy set? (I do love a bit of matchy matchy!). Was he or she named after a gemstone? Diamond, topaz, amethyst, opal, pearl...? Did you have a nickname for them, or a little saying, that could be engraved onto your jewellery? The possibilities are literally endless.
We can add gemstones. We can use different gemstones, for example those of a specific colour, or a genuine stone, such as amethyst or diamond. Or, if you specifically want, for example, a blue stone, but don't have the budget for a sapphire, we can use a sapphire blue cubic zirconia Instead. (And quite honestly, unless you're a gemologist, you can't tell the difference).
We can swap gemstones for pearls. We can set the gemstones in gold - mixing metals like this is something I'm well know for, it's a real favourite of mine. It's a really good way of adding the luxury of gold to a design without breaking the bank, it not only looks great with silver (when I say "great", I actually mean "the dogs doo daas"), but also shows every colour of gemstone off to absolute perfection.
We can also add things like hearts and stars, initials, even flowers, in silver or gold.
And we can add engraving to most of our designs, letting you incorporate personal text. This can be anything from a name and date, to a personal message. This is a good place to remind you again, not to be embarrassed about discussing this. There really is no judgement here. If something is personal and important to you, then it's personal and important to us too. I outsource all of my engraving to a specialist jewellery engravers in the Birmingham Jewellery Quarter, and they always do the most stunning job.
The second type of commission is when you have a completely bespoke design in mind. You give me a basic idea of what you want - pinging me a rough sketch of it is ideal. You don't have to be a great artist to do this, or even an average artist, quite honestly I can't draw to save my life, but a basic line drawing with notes is a great way of giving me a rough idea of what you're after. Alternatively, you can just describe it to me in words.
The third type is when you don't have a clue what design you want, but you have a few ideas of what you'd like incorporated in it.
Once you have in mind the type of horsehair jewellery you want, your budget, and a design, or the things you'd like incorporated in your design, we can get the show on the road. It all starts with a conversation. You can make a phone call, or a video call. You can text, WhatsApp, Messenger or dm us on our socials. You can use the contact form on our website, or you can email us. You can send a telegram. Or if you're really posh you can have your butler do it. Or you can send a pigeon. We promise to return it.
There is no hard sell. Ever. We listen to your ideas, tell you what's possible, and what isn't. We will advise you if we don't think an idea will be particularly durable, for example if you want a chain so fine it is likely to break easily, or if it will require extra care, for example if you want a soft gemstone that will scratch easily if worn for day to day activities. We can provide sketches of different ideas, and cheaper or more luxurious alternatives to suit your budget.
And don't worry if things are still a little raw, and you get a little emotional when you're discussing your horse or the jewellery. We've been there, and we get it.
It is important to us that your jewellery is absolutely perfect for you, so the design process takes however long it needs to. The design of any piece of jewellery is a very personal thing, and this is especially true for horsehair jewellery. So we go back and forwards with ideas and designs and tweaks until we hit on the perfect design for you. And I always tell people not to be shy about telling me what you don't like as well as what you do, I'm never offended and it really helps me.
Once we have the perfect design for you, and you're 100% happy, I'll ping you a link where you can peruse our T&Cs, if you haven't already (yes it's boring, but it's important so get on with it) and pay for it. I'll send you instructions on how to send us your horsehair, you'll follow them to the letter, and then you just sit back while we do the hard work and make your jewellery. It usually takes 4 - 6 weeks for us to make it, send it away to be hallmarked, have it returned, then polish it and set any gemstones, and fix the braided hair into it. We'll keep in touch with the odd progress report as we go. (At the time of writing, half the bloody country seems to be on strike, which is causing a few issues that are out of our hands, but we'll always keep you in the loop about any delays).
I hope that's helpful. If you have any questions at all, just give us a holler. There's never any hard sell, there's no such thing as a silly question, and we're always happy to help.
See 'ee drekly
Chelle x