Why I do what I do. (And how on earth I started doing it in the first place!).
Posted on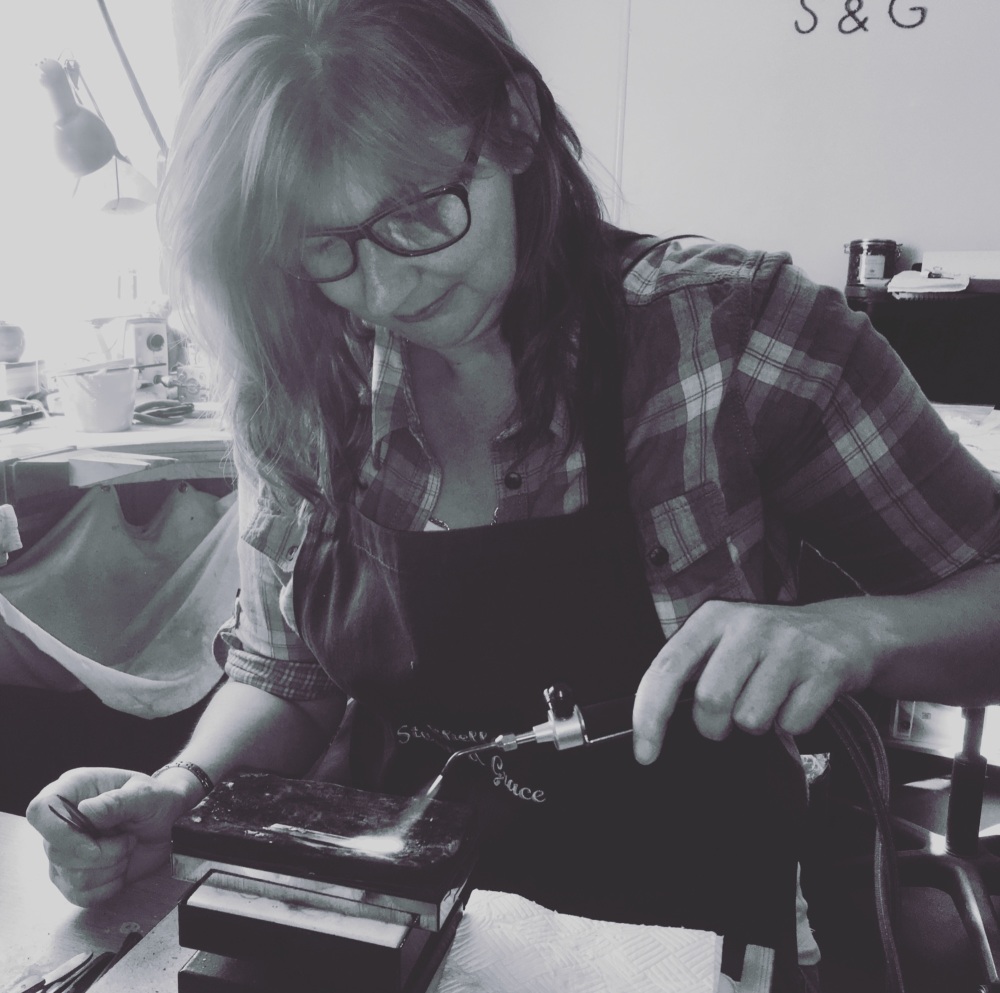 Becoming a jeweller was never a part of the plan. In all honesty, that may be because I never had much of a plan in the first place.
I started my working career as a riding instructor/groom/yard manager, and I loved it, and did it for a good number of years. But low wages combined with long and anti-social working hours weren't conducive to me owning - and enjoying - my own horses. So I moved into admin work within various branches of the Civil Service. I hated being behind a desk and I was bored stiff most of the time, but early mornings, evenings and weekends were my own, and I could fund, and enjoy my lovely horsey life.
Life, however, has a nasty habit of biting you on the arse when you least expect it. Following what's best described as a "life altering event" (and not in a good way), my mum encorouged (nagged) me to try an evening class - make your own silver ring. I took a bit of persuading, but when I got there, I was hooked within the first hour. Fire, hammers, precious metals, gemstones - seriously, I was in my element!
I decided to make a silver ring, with a garnet set in it, for my mum, by way of a thankyou. My goodness that ring was an utter shambles 😂! The ring band was slightly misshapen, the garnet was set wonky, and to add insult to injury it turned out to be the wrong size, so she had to wear it on her pinky finger.
But those first few hours spent at a jewellers bench lit a fire in me that still burns today. Now I didn't turn around and set myself up as a jeweller that same afternoon, oh hell no. There followed hours of literal blood, sweat and tears (and a minor house fire, but that's another story) at the bench. Saving up for tools and learning how to modify them, practicing and perfecting basic techniques, experimenting with new techniques, and developing my own unique style and designs, until I was finally in a position to turn that passion into a business. Of course, the process of learning and development is ongoing - that's half the fun.
Following on from the basic techniques of forming (making metal a certain shape) and soldering (using a gas torch to solder metal together. The trick is to melt the solder without melting the metal, which in the beginning was easier said than done) one of the first things I taught myself to make was silver chains. Chain making quickly became, and still is my zen process! To this day, my handmade silver curb chain bracelet is one of my favourite, and most popular designs. It is based on the curb chain on a horses double bridle, and seems to appeal to horsey folk, and non-horsey folk equally. Take a look at them here.
The second thing I taught myself to make were spinning rings, although in the Storm & Grace workshop they're known as "Yestling Rings" - we do love a good yestle. My favourites are the silver and gold ones, and they're also very popular - they've even been commissioned as wedding rings. Take a look at my favourite yestling rings here.
With my passion for horses, it was only a matter of time before I began experimenting with handmade horsehair jewellery, but at the time I began this experimentation, I would never have imagined it would be so popular - or that it would help so many grieving horse owners to find some comfort.
And the next natural progression was my own range of handmade silver and gold equestrian jewellery. There's a good deal more of that to come over the coming months, so stay tuned....!
So that's the "How on Earth" part. Here's the "why":
💎 The first is that I love the actual physical process of what I do. It's essentially metalwork, albeit with very expensive metal.
💎 I passionately believe that the world doesn't need more jewellery - the world needs better jewellery. We hand make everything - there is no cheap mass produced tat here. We use recycled sterling silver and recycled gold, gemstones that are responsibly sourced, or synthetic - that is, made not mined. I'm registered with Birmingham Assay Office, and all of my work is fully hallmarked. That's your guarantee that your jewellery is made with all of the good stuff, and none of the bad stuff. You can learn more about that here. All of our packaging is reusable/recycleable, in fact our entire business is centred around ethical and responsible practices.
💎 I love the challenge of working with customers to custom make them their perfect piece of jewellery.
💎 I love the fact that there is a story behind every piece of jewellery that I make, and those stories are loaded with emotion - I've learned that jewellery is an incredibly powerful thing, with the extraordinary ability to heal. From being excited for a big night out and treating yourself to a pair of earrings to wear, to having a bloody horrible week at work and buying that pendant you've had your eye on for weeks, by way of celebrating having survived. From the hope and romance of commissioning your wedding rings, to having your wedding ring melted and remade into a big shiny f*ck you to the ex. That asshat didn't deserve you anyway. Everyone has a story, and I love the fact that jewellery that I've designed and made becomes an intrinsic part of that story.
💎 Lastly, and perhaps most important for me, is making horsehair jewellery. By far the most poignant stories are those of love and loss, grief and sadness, from people who are commissioning horsehair jewellery for horses loved and lost. There are many reasons why I love my job, but hearing those stories, and helping people through their grief by creating a truly personal, unique and tangible keepsake of their horse or pony, is a privilege I will never ever take for granted.⁠ See our current range of horsehair pendants and horsehair bracelets here.

So that's it. Why I do what I do, and how on Earth I got to do it in the first place.
Thanks, as ever, for joining me as I muse and ramble.
See 'ee drekly,
Chelle x